HONORING DESIGNER REI KAWAKUBO
COMME DES GARCONS DESIGNER
METROPOLITAN MUSEUM, NYC, USA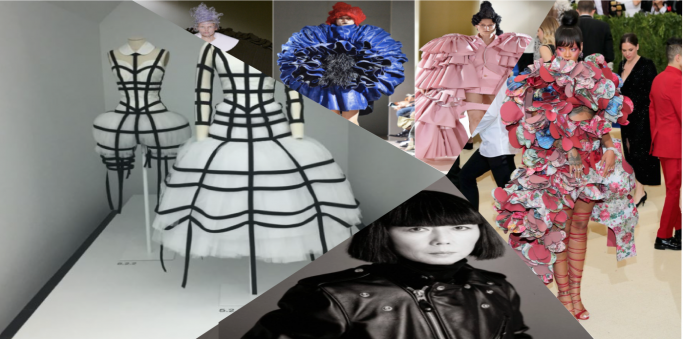 The exhibit, which began with the glitzy Met gala Monday night and opens to the public May 4, is divided into nine themes, all of them dualities in Kawakubo's work: Fashion/Anti-Fashion, High/Low, Design/Not Design, and Clothes/Not Clothes are a few.
The exhibition, held at the Metropolitan Museum in New York, will feature approximately 120 womenswear designs that Kawakubo, who's known to be extremely private, has designed for the Japanese brand Comme des Garcons. It will feature pieces from her first Paris show in 1981 to her most recent collection that blur the lines between fashion and art.
"In blurring the art/fashion divide, Kawakubo asks us to think differently about clothing," said Thomas P. Campbell, director and CEO of The Met, in a press statement. "Curator Andrew Bolton will explore work that often looks like sculpture in an exhibition that will challenge our ideas about fashion's role in contemporary culture."
Rei Kawakubo is one of the most important and influential designers of the past 40 years. "By inviting us to rethink fashion as a site of constant creation, recreation and hybridity, she has defined the aesthetics of our time."
VFA team cannot wait to see this exhibition.
IS SEOUL
THE NEXT FASHION AND ART CAPITAL?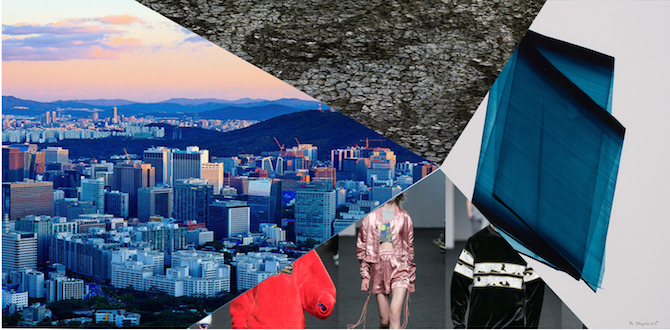 The Seoul Fashion week showcased at the Zaha Hadid Design Plaza has been on everyone's lips in the past few days.
It would not be relevant to say that South Korean Fashion is a brand new thing in the industry considering the impact of already re-known designers like Lee Young-Hee, Juun J or Wooyoungmi and internationally acclaimed retail concepts like Tom Greyhound, Shinsegae-Boon the shop or 10 Corso Como Seoul.
Seoul's fashion week is already twelve years old, but it has never been talked about as much by fashion experts, journalists and buyers from all around the world.
The creativity in fashion has thrived towards street-culture & sportswear following the example of highly coveted brands like Vêtements.
And that is something South Korean designers have definitely integrated into their brand DNA mixing street-style, K-pop & technology elements. Blindness, SJYP, Moohong are some of the label names to watch closely in the future…
As usual, Fashion does not live on its own and the influence of South Korean Art is also very highly considered in established art cities like Paris or London. South Korea is currently guest of honor in Paris Art Fair, where the work of Kyum Kim and Yun Soo Kim at the Soso Gallery or Ung-No Lee at the Thessa Herold Gallery are currently displayed amongst many other talented artists.
Visit : http://www.seoulfashionweek.org/ 
THE DARK ROMANTICISM
OF ALEXANDER MCQUEEN AUTUMN WINTER 2016
MENSWEAR COLLECTION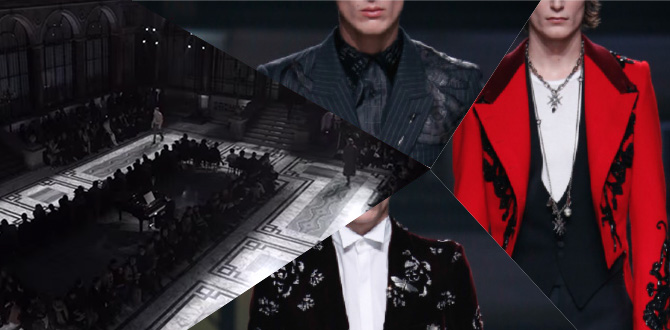 Inspired by Sir John Soane and Charles Darwin, Sarah Burton delivered a beautiful and rich new menswear collection for Fall Winter 2016.
Alexander McQueen himself was always inspired by Victorian times and anthropology making us travel in beautiful forgotten or imagined worlds. We all remember the performance in his « Plasto's Atlantis » or « Voss » fashion shows for example.
Needless to say that Sarah Burton is the right person to respect the legacy of Alexander McQueen.
The Fall Winter 2016 menswear collection invites us to enter in a dark and astonishing « cabinet de curiosité » and mixing elements like collected flowers and butterfly jacquards.
Buyers have always considered Alexander Mcqueen for the new approach on classic pieces. Once again (and probably in a stronger way than she did before), Sarah Burton proved that you can bring edgyness to Tailoring, applying embroidery details or gold jacquard on pinstripes suits or velvet tuxedo.
The dark romance is also accentuated by the men jewellery, creating more than a contrast, maybe an ambiguity, between the military feeling and the intense sensibility.
This collection is luxurious, romantic, flamboyant and decadent at the same time… Definitely one of the strongest collection presented during London Men Collection so far.
VFA
Video : www.alexandermcqueen.com