HONORING DESIGNER REI KAWAKUBO
COMME DES GARCONS DESIGNER
METROPOLITAN MUSEUM, NYC, USA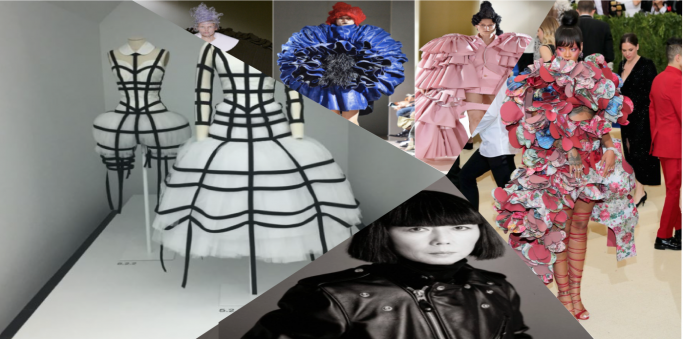 The exhibit, which began with the glitzy Met gala Monday night and opens to the public May 4, is divided into nine themes, all of them dualities in Kawakubo's work: Fashion/Anti-Fashion, High/Low, Design/Not Design, and Clothes/Not Clothes are a few.
The exhibition, held at the Metropolitan Museum in New York, will feature approximately 120 womenswear designs that Kawakubo, who's known to be extremely private, has designed for the Japanese brand Comme des Garcons. It will feature pieces from her first Paris show in 1981 to her most recent collection that blur the lines between fashion and art.
"In blurring the art/fashion divide, Kawakubo asks us to think differently about clothing," said Thomas P. Campbell, director and CEO of The Met, in a press statement. "Curator Andrew Bolton will explore work that often looks like sculpture in an exhibition that will challenge our ideas about fashion's role in contemporary culture."
Rei Kawakubo is one of the most important and influential designers of the past 40 years. "By inviting us to rethink fashion as a site of constant creation, recreation and hybridity, she has defined the aesthetics of our time."
VFA team cannot wait to see this exhibition.